Action Shots
Always exciting

June 16th 2023
Great Racing! Come out Friday Night Through September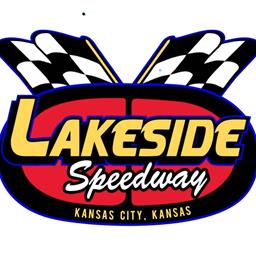 8/25/2023 - Lakeside Speedway
Kansas City, KS
Lucas Oil American Sprint Car Series
ASCS Winged 360 Sprint Cars,
Add to contacts USRA Stock Cars, USRA B-Mods, Pure Stocks, E-Mods
TIMES
Pits Open 4PM • Grandstands Open 6:30PM • Pill Draw Closes TBA
Pit Meeting TBA • Hot Laps 7:30 PM • Racing to follow
All times Central Standard Time
TICKETS
General Admission: $25
Suites: $40
Terrace: $25
For Suite and Terrace availability call (913) 299-9206.
Pit Pass: $40
17 & Under must have signed Minor Release to enter pits
FYI-- REMEMBER A SUITE BAND DOES NOT GIVE YOU ACCESS TO THE PITS AND A PIT PASS DOES NOT GIVE YOU ACCESS TO THE SUITES!!
Pure Stocks

10 entries

E-Mods

18 entries

ASCS Sprint Cars

23 entries

ASCS National,ASCS Warrior Region

USRA B-Mods

16 entries

USRA Stock Cars

9 entries
Full Event Information on MyRacePass
Pure Stocks
Finish
Start
#
Competitor
Hometown
+/-
1
1
16
Corey Myers Atchison, KS
Atchison, KS
-
2
2
67
Jeff Goepferich Jr Kearney, MO
Kearney, MO
-
3
5
6
John Snyder Smithville, MO
Smithville, MO
2
4
3
56
Joseph Smith Jr Kansas City, KS
Kansas City, KS
-1
5
8
7
Marshall Jewett Gardner, KS
Gardner, KS
3
6
7
57M
Elijah Meyer Valley Falls, KS
Valley Falls, KS
1
7
4
712
Geoff Harvey De Soto, KS
De Soto, KS
-3
8
10
105
Clint Hedge Jr Basehor, KS
Basehor, KS
2
9 DNF
6
8Y
Rieli Yonts Leavenworth, KS
Leavenworth, KS
-3
DNS
9
2Y
Chase Yonts Leavenworth, KS
Leavenworth, KS
-
Finish
Start
#
Competitor
Hometown
+/-
1
1
67
Jeff Goepferich Jr Kearney, MO
Kearney, MO
-
2
2
712
Geoff Harvey De Soto, KS
De Soto, KS
-
3
5
6
John Snyder Smithville, MO
Smithville, MO
2
4
3
57M
Elijah Meyer Valley Falls, KS
Valley Falls, KS
-1
5
4
2Y
Chase Yonts Leavenworth, KS
Leavenworth, KS
-1
Finish
Start
#
Competitor
Hometown
+/-
1
2
16
Corey Myers Atchison, KS
Atchison, KS
1
2
3
56
Joseph Smith Jr Kansas City, KS
Kansas City, KS
1
3
4
8Y
Rieli Yonts Leavenworth, KS
Leavenworth, KS
1
4
1
7
Marshall Jewett Gardner, KS
Gardner, KS
-3
5
5
105
Clint Hedge Jr Basehor, KS
Basehor, KS
-
E-Mods
Finish
Start
#
Competitor
Hometown
+/-
1
2
54L
Chris Dishong Atchison, KS
Atchison, KS
1
2
1
9X
Josh Boyd Silver Lake, KS
Silver Lake, KS
-1
3
4
33
Kevin White Desoto, KS
Desoto, KS
1
4
11
447
Kenny Prince Bonner Springs, KS
Bonner Springs, KS
7
5
3
61
Jeff Degroot Basehor, KS
Basehor, KS
-2
6
7
99
Dylon Smith Belton, MO
Belton, MO
1
7
9
8
Devin Dultmeier Silver Lake, KS
Silver Lake, KS
2
8
8
16
Dalton Dultmeier Silverlake, KS
Silverlake, KS
-
9
15
50C
Josh Mclaughlin Excelsior Springs, MO
Excelsior Springs, MO
6
10
13
79J
Javier Fierro Kansas City, MO
Kansas City, MO
3
11
16
72M
Juan Martinez Kansas City, KS
Kansas City, KS
5
12
17
82
Paul Sloan Kansas City, KS
Kansas City, KS
5
13 DNF
6
47
Paul Carter Kearney, MO
Kearney, MO
-7
14 DNF
14
5J
Jeff Goepferich Sr Kansas City, MO
Kansas City, MO
-
15 DNF
12
1
JR Burge Atchison, KS
Atchison, KS
-3
16 DNF
5
01B
Brett Holman Gower, MO
Gower, MO
-11
DNS
10
5R
Scott Crockett St. Joseph, MO
St. Joseph, MO
-
DNS
18
88C
Colby Burge Atchison, KS
Atchison, KS
-
Finish
Start
#
Competitor
Hometown
+/-
1
1
61
Jeff Degroot Basehor, KS
Basehor, KS
-
2
7
9X
Josh Boyd Silver Lake, KS
Silver Lake, KS
5
3
2
99
Dylon Smith Belton, MO
Belton, MO
-1
4
9
01B
Brett Holman Gower, MO
Gower, MO
5
5
5
5R
Scott Crockett St. Joseph, MO
St. Joseph, MO
-
6
8
447
Kenny Prince Bonner Springs, KS
Bonner Springs, KS
2
7
6
79J
Javier Fierro Kansas City, MO
Kansas City, MO
-1
8
3
72M
Juan Martinez Kansas City, KS
Kansas City, KS
-5
DNS
4
88C
Colby Burge Atchison, KS
Atchison, KS
-
Finish
Start
#
Competitor
Hometown
+/-
1
2
54L
Chris Dishong Atchison, KS
Atchison, KS
1
2
4
33
Kevin White Desoto, KS
Desoto, KS
2
3
3
16
Dalton Dultmeier Silverlake, KS
Silverlake, KS
-
4
8
47
Paul Carter Kearney, MO
Kearney, MO
4
5
6
8
Devin Dultmeier Silver Lake, KS
Silver Lake, KS
1
6
1
1
JR Burge Atchison, KS
Atchison, KS
-5
7
7
5J
Jeff Goepferich Sr Kansas City, MO
Kansas City, MO
-
8
9
50C
Josh Mclaughlin Excelsior Springs, MO
Excelsior Springs, MO
1
9
5
82
Paul Sloan Kansas City, KS
Kansas City, KS
-4
ASCS Sprint Cars
Finish
Start
#
Competitor
Hometown
+/-
1
3
95
Matt Covington Glenpool, OK
Glenpool, OK
2
2
5
19
Ayrton Gennetten Versailles, MO
Versailles, MO
3
3
1
2C
Wayne Johnson Oklahoma City, OK
Oklahoma City, OK
-2
4
4
10
Landon Britt Memphis, TN
Memphis, TN
-
5
2
14
Jordon Mallett Greenbrier, AR
Greenbrier, AR
-3
6
6
55B
Brandon Anderson Glenpool, OK
Glenpool, OK
-
7
7
44
Chris Martin Ankeny, IA
Ankeny, IA
-
8
14
98P
Miles Paulus Marshall, MO
Marshall, MO
6
9
12
36
Jason Martin Liberal, KS
Liberal, KS
3
10
13
87J
Jace Park Overland Park, KS
Overland Park, KS
3
11
16
45X
Kyler Johnson Quinter, KS
Quinter, KS
5
12
15
1E
Ian Madsen St Marys, NSW
St Marys, NSW
3
13
18
7C
Chris Morgan Topeka, KS
Topeka, KS
5
14
20
6
Christopher Townsend La Porte, TX
La Porte, TX
6
15
17
91
Michael Day Farmersville, TX
Farmersville, TX
2
16
8
8M
Kade Morton Coweta, OK
Coweta, OK
-8
17
19
32D
Daryn Langford Kearney, MO
Kearney, MO
2
18
9
3
Howard Moore Memphis, TN
Memphis, TN
-9
19
10
2
Whit Gastineau Moore, OK
Moore, OK
-9
20
22
111
Chad Frewaldt Kansas City, KS
Kansas City, KS
2
21
21
2P
Chase Porter St. Joseph, MO
St. Joseph, MO
-
22
11
11X
Garet Williamson Columbia, MO
Columbia, MO
-11
23
23
3Z
Zach Davis Savannah, MO
Savannah, MO
-
8 Laps
Heat 1AR Dyno Specialty
Finish
Start
#
Competitor
Hometown
+/-
1
2
19
Ayrton Gennetten Versailles, MO
Versailles, MO
1
2
4
2C
Wayne Johnson Oklahoma City, OK
Oklahoma City, OK
2
3
5
8M
Kade Morton Coweta, OK
Coweta, OK
2
4
1
98P
Miles Paulus Marshall, MO
Marshall, MO
-3
5
3
36
Jason Martin Liberal, KS
Liberal, KS
-2
6
6
1E
Ian Madsen St Marys, NSW
St Marys, NSW
-
7
7
7C
Chris Morgan Topeka, KS
Topeka, KS
-
8
8
3Z
Zach Davis Savannah, MO
Savannah, MO
-
8 Laps
Heat 2AR Dyno Specialty
Finish
Start
#
Competitor
Hometown
+/-
1
1
44
Chris Martin Ankeny, IA
Ankeny, IA
-
2
2
55B
Brandon Anderson Glenpool, OK
Glenpool, OK
-
3
4
10
Landon Britt Memphis, TN
Memphis, TN
1
4
3
3
Howard Moore Memphis, TN
Memphis, TN
-1
5
5
87J
Jace Park Overland Park, KS
Overland Park, KS
-
6
6
45X
Kyler Johnson Quinter, KS
Quinter, KS
-
7
7
111
Chad Frewaldt Kansas City, KS
Kansas City, KS
-
8
8
2P
Chase Porter St. Joseph, MO
St. Joseph, MO
-
8 Laps
Heat 3AR Dyno Specialty
Finish
Start
#
Competitor
Hometown
+/-
1
3
95
Matt Covington Glenpool, OK
Glenpool, OK
2
2
4
14
Jordon Mallett Greenbrier, AR
Greenbrier, AR
2
3
2
2
Whit Gastineau Moore, OK
Moore, OK
-1
4
5
11X
Garet Williamson Columbia, MO
Columbia, MO
1
5
1
6
Christopher Townsend La Porte, TX
La Porte, TX
-4
6
6
91
Michael Day Farmersville, TX
Farmersville, TX
-
7
7
32D
Daryn Langford Kearney, MO
Kearney, MO
-
3 Laps
Qualifying 1The Driver's Project
Finish
Start
#
Competitor
Hometown
Time
1
6
2C
Wayne Johnson Oklahoma City, OK
Oklahoma City, OK
14.783
2
8
36
Jason Martin Liberal, KS
Liberal, KS
14.922
3
3
19
Ayrton Gennetten Versailles, MO
Versailles, MO
15.114
4
5
98P
Miles Paulus Marshall, MO
Marshall, MO
15.148
5
4
8M
Kade Morton Coweta, OK
Coweta, OK
15.174
6
1
1E
Ian Madsen St Marys, NSW
St Marys, NSW
15.403
7
2
7C
Chris Morgan Topeka, KS
Topeka, KS
15.559
8
7
3Z
Zach Davis Savannah, MO
Savannah, MO
15.850
3 Laps
Qualifying 2The Driver's Project
Finish
Start
#
Competitor
Hometown
Time
1
8
10
Landon Britt Memphis, TN
Memphis, TN
15.079
2
6
3
Howard Moore Memphis, TN
Memphis, TN
15.080
3
1
55B
Brandon Anderson Glenpool, OK
Glenpool, OK
15.238
4
5
44
Chris Martin Ankeny, IA
Ankeny, IA
15.281
5
2
87J
Jace Park Overland Park, KS
Overland Park, KS
15.323
6
4
45X
Kyler Johnson Quinter, KS
Quinter, KS
15.418
7
3
2P
Chase Porter St. Joseph, MO
St. Joseph, MO
15.509
8
7
111
Chad Frewaldt Kansas City, KS
Kansas City, KS
15.852
3 Laps
Qualifying 3The Driver's Project
Finish
Start
#
Competitor
Hometown
Time
1
5
14
Jordon Mallett Greenbrier, AR
Greenbrier, AR
15.086
2
3
95
Matt Covington Glenpool, OK
Glenpool, OK
15.215
3
2
2
Whit Gastineau Moore, OK
Moore, OK
15.373
4
4
6
Christopher Townsend La Porte, TX
La Porte, TX
15.464
5
6
11X
Garet Williamson Columbia, MO
Columbia, MO
15.581
6
1
91
Michael Day Farmersville, TX
Farmersville, TX
15.966
7
7
32D
Daryn Langford Kearney, MO
Kearney, MO
16.526
USRA B-Mods
Finish
Start
#
Competitor
Hometown
+/-
1
3
56
Shadren Turner St. Joseph, MO
St. Joseph, MO
2
2
1
17
Henry Chambers Baldwin City, KS
Baldwin City, KS
-1
3
8
1K
Tim Karrick Basehor, KS
Basehor, KS
5
4
6
34
Mark Schafman Edwardsville, KS
Edwardsville, KS
2
5
16
99
Brad Smith Belton, MO
Belton, MO
11
6
4
181
Luke Nieman Nortonville, KS
Nortonville, KS
-2
7
5
47
Tyson Lanfermann Atchison, KS
Atchison, KS
-2
8
7
91J
Jaylen Wettengel Topeka, KS
Topeka, KS
-1
9
9
17L
Chris Leathers Excello, MO
Excello, MO
-
10
2
1
Kyle Henning Atchison, KS
Atchison, KS
-8
11
14
54JR
Eddie Ingram Jr. Kansas City, KS
Kansas City, KS
3
12 DNF
12
27
Tyler O'Neal Bethany, MO
Bethany, MO
-
13 DNF
10
15
Nick Drew Kansas City, KS
Kansas City, KS
-3
14 DNF
11
10W
Mike Wahwahsuck Atchison, KS
Atchison, KS
-3
15 DNF
13
42
Sam Florence Lathrop, MO
Lathrop, MO
-2
DNS
15
311
John Baker Basehor, KS
Basehor, KS
-
Finish
Start
#
Competitor
Hometown
+/-
1
1
1
Kyle Henning Atchison, KS
Atchison, KS
-
2
3
181
Luke Nieman Nortonville, KS
Nortonville, KS
1
3
6
47
Tyson Lanfermann Atchison, KS
Atchison, KS
3
4
7
91J
Jaylen Wettengel Topeka, KS
Topeka, KS
3
5
2
15
Nick Drew Kansas City, KS
Kansas City, KS
-3
6
5
10W
Mike Wahwahsuck Atchison, KS
Atchison, KS
-1
7
8
42
Sam Florence Lathrop, MO
Lathrop, MO
1
8
4
311
John Baker Basehor, KS
Basehor, KS
-4
Finish
Start
#
Competitor
Hometown
+/-
1
4
17
Henry Chambers Baldwin City, KS
Baldwin City, KS
3
2
2
34
Mark Schafman Edwardsville, KS
Edwardsville, KS
-
3
7
56
Shadren Turner St. Joseph, MO
St. Joseph, MO
4
4
1
17L
Chris Leathers Excello, MO
Excello, MO
-3
5
8
1K
Tim Karrick Basehor, KS
Basehor, KS
3
6
6
27
Tyler O'Neal Bethany, MO
Bethany, MO
-
7
3
54JR
Eddie Ingram Jr. Kansas City, KS
Kansas City, KS
-4
8
5
99
Brad Smith Belton, MO
Belton, MO
-3
USRA Stock Cars
Finish
Start
#
Competitor
Hometown
+/-
1
1
85
Darrin Schmidt Winchester , KS
Winchester , KS
-
2
2
16S
Chris Dishong Atchison, KS
Atchison, KS
-
3
7
74
Rodney Schweizer Kansas City, KS
Kansas City, KS
4
4
3
115
Jason Park Kansas City, KS
Kansas City, KS
-1
5
6
11W
Gerald Wahwahsuck Atchison, KS
Atchison, KS
1
6
5
39K
Shane Schmidt Topeka, KS
Topeka, KS
-1
7
8
5K
Steve Herrick Topeka, KS
Topeka, KS
1
8
4
91J
Jaylen Wettengel Topeka, KS
Topeka, KS
-4
DNS
9
27
David Oxford Platte City, MO
Platte City, MO
-
Finish
Start
#
Competitor
Hometown
+/-
1
1
16S
Chris Dishong Atchison, KS
Atchison, KS
-
2
4
115
Jason Park Kansas City, KS
Kansas City, KS
2
3
5
39K
Shane Schmidt Topeka, KS
Topeka, KS
2
4
2
74
Rodney Schweizer Kansas City, KS
Kansas City, KS
-2
5
3
27
David Oxford Platte City, MO
Platte City, MO
-2