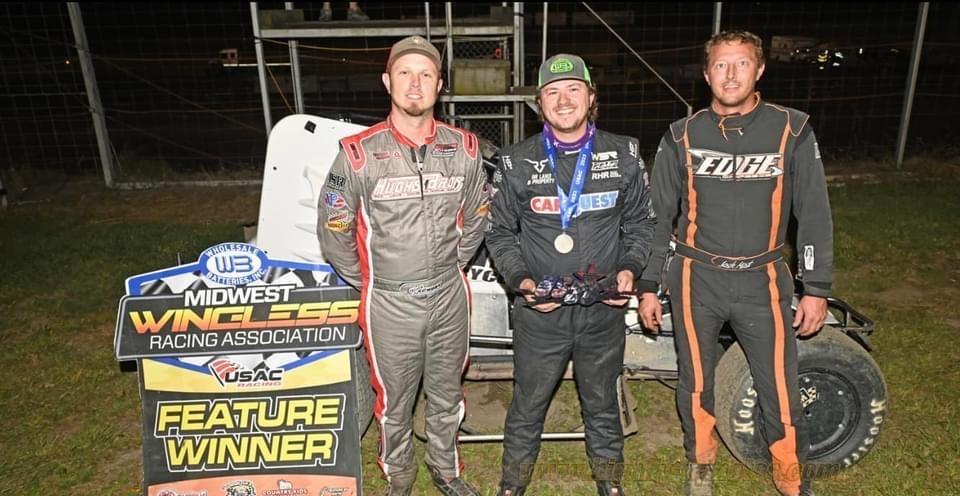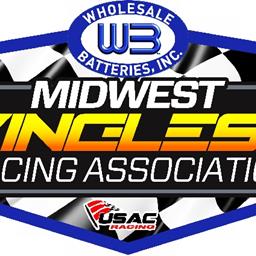 9/30/2023
Midwest Wingless Racing Association
---
Smith Speeds To Victory At US 36!
Osborn, Mo: Wesley Smith of Nixa, Missouri, raced to victory during the preliminary round of the Missouri Nationals at US 36 Raceway for the Wholesale Batteries USAC MWRA Sprint Car Series Friday night in Northwest Missouri.
The Show Me State racer would have to get past rivals that included point leader of the series Wyatt Burks of (Topeka, Ks), second place in the standings, Chris Parkinson, (Gladstone, Mo), and 3-time winner in 2023 with the MWRA, Kory Schudy of (Battlefield, Mo). All, in the early going of the 20 lap preliminary feature driving a 4th different car with the series in 2023.
This time, Smith, winning his second feature of the year with the MWRA, and his 10th all-time in points paying races was behind the wheel of the family owned number 33 usually driven by his brother Bryson Smith. While running the car he raced last season to a hard fought victory over Schudy driving the Jon Sawyer Racing (JSR) 28. Schudy, a winner earlier in the season at US 36, slowly, and steadily, reeled in Smith during this barn burner as they played cat and mouse with lapped traffic until the checkered flag flew with Smith taking the victory by a couple car lengths.
Meanwhile, Josh Most of (Red Oak,Ia) would make the "Most" of his first race with the MWRA in 2023 to come from 10th to 3rd taking the final spot on the podium in the Germar Racing 93. While Burks driving the WBR 11w put a stranglehold on the championship for the MWRA by running 4th place. And Returning for the first time to racing since a mid season hiatus, (Lone Jack, Mo) chauffeur Braydon Cromwell driving his BCR number 4, would complete the top 5
showing little rust after his couple month layoff.
Positions 6 thru 12th on the first night of the Missouri Nationals at US 36 included a impressive run by Dakota Earls coming from last place to (6th) to win the Hard Charger Award in his 15E. This took place for the fourth year sprint car racer after his car had a fuel issue during his heat, relegating him to a last place finish after leading most of the race. While Parkinson would come home (7th), Zach Clark, (8th), Luke Howard (9th), Chad Winfrey (10th), Buddy Parker (11th), and Justin Johnson, (12th).
Earlier in the evening, Cromwell would win the first heat, and Burks the second, after starting fifth to win high point honors.
The 17th, and final race of the 2023 season for the MWRA, will be held today at the US 36 dirt track for the second round of the Missouri Nationals. With the program starting around 2:30 for the first three classes. And then a break while the track gets reworked before the finals of the other classes including the Wholesale Batteries USAC MWRA Sprint Car Series. Photos courtesy of High Fly'N Photos https://http://www.highfly-nphotos.com
USAC Racing
Wholesale Batteries, Inc.
US 36 Raceway Dirt Track
Rod End Supply
BSmithEnterprises
Creationsby Ravyn
Country Kids Day Care of Olathe
Pit Stop Catering
Friendly Affordable Computing
Valor Racing
Xtreme Color
Daytona 1
Contingency Connection
---
Article Credit: Ray Cunningham
Article Media
Back to News